eBooks
From Inspiration to Implementation

A Guide to Planning Successful Tech Initiatives
To make sure your implementation is successful, great ideas need to be converted into an actionable implementation. To make the move from great ideas to actionable plan, upfront preparation is vital, but how do you do that?
This eBook will review important things to consider before implementing a technology project. This guide may also be helpful when revisiting an initiative that has lost its luster. From big ideas to smaller implementations, this ebook will help you develop your plan and present it to garner support from all key stakeholders.
---
Proven Approaches to Effective Tech Integration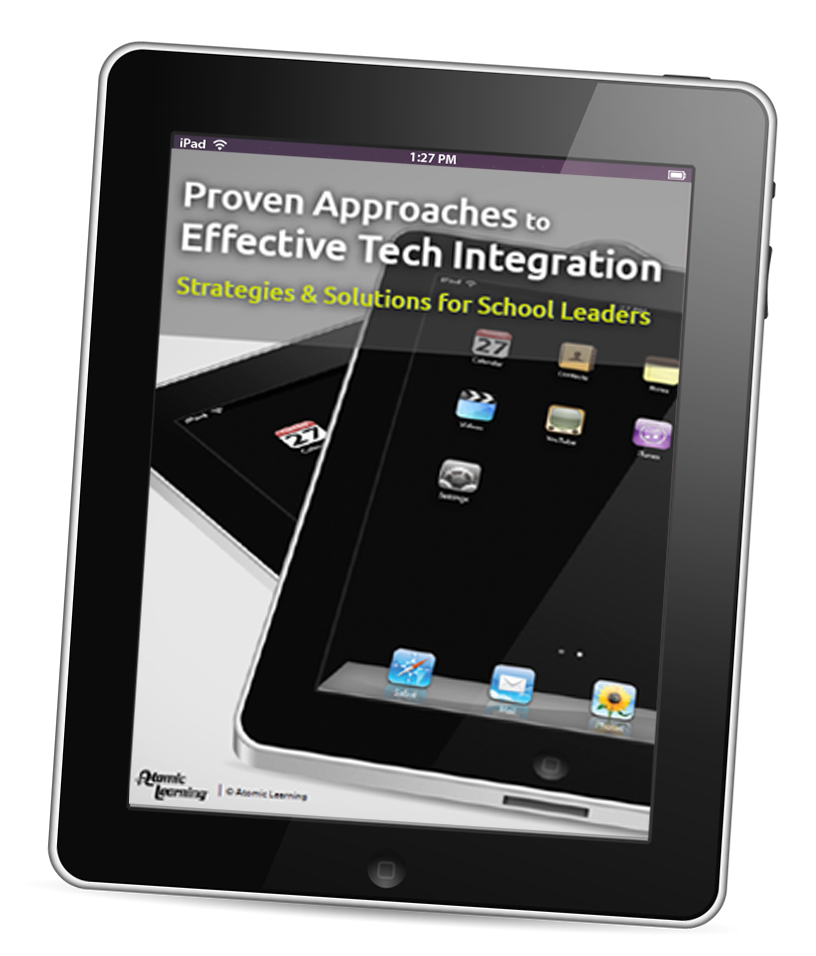 Strategies & Solutions for School Leaders
An educational leader is also an agent of change. Any change comes with a whole set of challenges. Understanding how change happens and what prevents initiatives from succeeding is crucial to any technology plan. This eBook from Atomic Learning highlights why, as an administrator, planning for a technology initiative must go beyond buying the hardware. It's not about the apps used or the type of mobile device. It's about understanding how the technology can help educators advance students to reach their fullest potential.
There are many schools of thought about how to facilitate change in education. This eBook outlines several different approaches for school leaders to model their technology initiatives after.
---
Repurposing Funds to Shift Curriculum

A Story of Driving Technology Engagement during Challenging Times
Little Falls Community Schools in Minnesota is doing some incredible things—a 1:1 iPad initiative is just part of it. This eBook details Project REAL, the district's solid, sustainable program focused on impacting student achievement via engagement.
---
Seven Steps to Flatten Your Classroom
We can now work with almost anyone, any place, and at any time – and our classrooms should reflect that. Flattening our classrooms is about introducing our students to the world in safe, meaningful ways that will enrich and augment the things that are already working in our schools.
eBook is based on an Atomic Learning workshop developed by Vicki Davis, who has been recognized for her innovative use of the Web in the classroom.
---
Integrate Assistive Technology in General Education
A Quick Reference Guide
Assistive technology can be tremendously beneficial to all educators, not just those in special ed environments. Atomic Learning is committed to integrating assistive technology into the classroom, and we offer this guide in the spirit of that mission.
---
Moving Education Forward Through Technology Integration
Helpful Insights on Establishing a Technology Integration Program
A must-read resource providing valuable insights and ideas to create an effective technology integration program. This ebook investigates the challenges to effectively using technology in the classroom and discusses key points of an effective technology integration program.
---
Moving Forward with Assistive Technology
A Guide to Creating More Effective Assistive Technology Services
Written by recognized thought leader Gayl Bowser, this ebook outlines key steps in creating effective assistive technology services.
---
Three Keys to a Successful Laptop Initiative
Originally created for our International friends, this eBook addresses how
educators around the world are working hard to bring their classrooms into the 21st century. Technology implementation and integration are among the greatest challenges facing today's schools.
To assist you in addressing these challenges, Atomic Learning offers this valuable resource presenting the key points to consider when developing a laptop computer implementation initiative.