McAllen Independent School District, Texas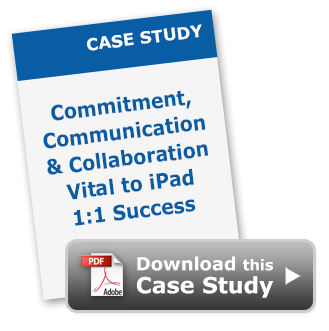 By visiting the McAllen, TX ISD homepage, you know instantly from the imagery that the district is passionate about its huge mobile initiative, called TLC3 – Transforming Learning in the Classroom, Campus, and Community that includes iPads/iPod Touch devices for every student.

Today's students are engrossed in a world of incredibly thought-provoking, discussion-igniting learning experiences available at the click of a button, and McAllen ISD recognizes this.
Learn from Carmen Garcia, the district's Director of Instructional Technology, how they have created a successful community initiative for their district with the help of Atomic Learning.
---
Vacaville Christian Schools, California
Are your staff reluctant to participate in your mobile technology initiative?

Learn from a Middle School Principal at Vacaville Christian Schools in Vacaville, California how they implemented an online tech training and solution to position teachers for success. One of her claims to a successful mobile implementation is being a great support system to the teachers as they transitioned.
Download the full case study to learn more.
---
Methacton School District, Pennsylvania
Lack of differentiation in technology instruction for educators? Schools are under increasing pressure to implement the Common Core Standards and to develop students' career and college readiness skills.

Methacton School District, located in a suburb of Philadelphia in southeastern Pennsylvania, is no different. Methacton implemented a comprehensive professional development solution to address the challenge of differentiation in technology instruction for educators.

Download this case study to learn how the district aligned technology and curriculum to realize results in increased teacher support and student engagement.

---
Bancroft School, Massachusetts
Limited resources to provide comprehensive technology training to staff? You're not alone!
Bancroft School, an independent school in Massachusetts, needed technology training that could work on its own, without the help of the Technology Department staff and available at any time of day to support busy schedules.
Download this case study to learn how Bancroft has found success with self-driven technology professional development.
---
North East ISD, Texas
Lack of teacher technology skills to successfully reach students with disabilities in the general education classroom?
At North East ISD in San Antonio, Texas, professional development training from Atomic Learning helps support Universal Design for Learning (UDL) principles and is helping students in Response to Intervention (RTI) programs by giving general education teachers access to technology training to support all learners.
Download this case study to learn how the district utilizes online professional development to guide teachers on creating accessible instruction through technology, and is ultimately impacting ALL students in the process.
---
Seiling Junior High School, Oklahoma

The Seiling School District is a small districts with a total enrollment of approximately 400 students and the Junior High School has an enrollment of about 100 students. And, while Seiling recognizes the importance of technology in education, the school, like many other schools, is challenged to provide technology training and tech-focused professsional development with limited resources.

Download this case study to learn how Seiling found a cost-effective online professional development training solution.
---
Independent School District 197, Minnesota
Struggling with a lack of computer literacy skills and confidence in how to use technology in instruction among teachers, ISD 197's turned to Atomic Learning for on-demand professional development.
"Once teachers start using Atomic Learning, they can see how easy it is to use and they become more comfortable using technology tools," according to Margaret Hinke, Technology Integration Specialist at ISD 197. "This increases the amount of time they use technology in the classroom with students engaging in 21st century learning. "
Download this case study to learn about the solution ISD 197 found to provide technology training and professional development successfully.
---
Renton School District, Washington
Challenged to provide staff training in times of budget adversity?
Brooke Trisler, Director of Instructional Technology at Renton School District in Washington, and his team of three staff training facilitators came face-to-face with the time challenge when budget and staffing cuts eventually tasked them with supporting over 1,200 staff in 23 schools throughout the district.

Download this case study to learn how they empower teachers and improve staff tech literacy.
---
Tuloso-Midway ISD, Texas


While teachers and staff often need helping with learning "How to Use" available technology, it is also important they understand "How to Apply" it effectively.

Trish Panknin, Director of Career and Technical Education at Tuloso-Midway ISD in Texas has worked to keep her teachers up to speed with technology for a number of years, and during the 2010-11 school year focused on integration.

Download this case study to learn how Tuloso-Midway's innovative technology camp is motivating teachers—and impacting long-term student success.